Read Time: 4 Minutes
When it comes to working with businesses or individuals providing a product or service, it's normal for consumers to be a bit hesitant. In the UK, the average person is exposed to between 3,000 and 5,000 marketing messages every single day. As a result, most have become very good at "tuning out" most commercial messaging and digital marketing efforts. It's what's known in psychology as selective attention.
Further to that, the advent of the Internet, superfast wifi and internet-ready mobile technology means that your customers can research alternative solutions in an instant and are less than three seconds away from your competitors should you fail to grab their attention, develop relevance and build trust. That has made it more important than ever to develop meaningful relationships with customers and potential customers and to be proactive in your approach to do so. 
Thankfully, social media provides an excellent opportunity to identify, target and reach out to highly relevant members of you target audience, and if you want to maintain a professional appearance while still connecting with prospective clients, LinkedIn is a great platform for accountants and professional services in general.
The Professional Social Network
With over 690 million users across the globe, LinkedIn has grown to become the world's largest professional network. 
People use the network for a variety of reasons, including job hunting, training, connecting with co-workers, and networking with other individuals/businesses. As an accountant, LinkedIn can be an important tool that's used to connect with clients while still maintaining a professional presence. 
Platforms such as Facebook are extremely powerful, but they are often used for personal connection rather than a professional interaction. This means that whilst you can still reach out to those members of the target audience, they may well be less interested and open to having to professional or commercially focused conversations on what they consider to be a personal network. That isn't to say other platforms can't form part of a larger strategy, but LinkedIn reigns supreme for professional conversations with high-value decision-makers.
The Benefits of LinkedIn As an Accountant
So, why is LinkedIn so beneficial? LinkedIn allows you to position yourself as an authority in your field and a good solution to the problem they are facing. As an accountant your clients need trust that you know what you are doing, after all, their business's success could depend on it.
LinkedIn provides an opportunity for prospective customers to research and form an opinion on your suitability as their accountancy service provider without even having to pick up the phone. Many people are averse to making phone calls or enquiries with other businesses before they have established that they are a good fit…why? Because years of hard-sales mentality, outbound PPI nuisances and being sold to has made them sceptical. They have likely had experiences in the past where they have been coerced into a service or have agreed to something without being fully behind it, and experienced buyers remorse. They don't want to put themselves in that situation again without knowing that you are a good fit, trustworthy and are great at what you do. Aside from that, who has time to call round 20 accountants for a 20-minute call? It's much easier to qualify them, much in the same way a salesperson would, before engaging in conversation with a smaller number of those that look like the most suitable providers.
Ensure you optimise your account for lead generation. Many use LinkedIn as a type of CV, but these people are here to see your ability to meet their needs, not offer you employment. Ensure all of the sections you are provided with are complete and geared towards your prospective customer. Our marketing health check for financial services industries identifies over 30 criteria for the optimum LinkedIn profile. Why don't you get in touch and ask us to optimise your profile free of charge?
Post high-quality, relevant content 2 – 5 times per week and if possible, make sure that video forms a part of that content. It will keep you at the front-of-mind of your connections, show prospective customers that you are knowledgeable and provide opportunities for engagement and interactions with your peers, customers and prospective customers. Don't forget…each one of those engagements, whether it be a post reaction or comment, will increase the visibility and reach of your post so more prospective customers will see it and how great you are at what you do.
Another great benefit of LinkedIn the ability to target, connect and message decision-makers in businesses that match your customer profile. Even the free version of LinkedIn has powerful search and targeting options, but the paid versions take this to the next level. We use Sales Navigator (Approx £60 per month) and it pays for itself ten times over. Having a paid version of LinkedIn also gives you a little badge or icon next to your profile picture which not only makes you stand out, it shows you are serious about your LinkedIn presence and engaging with customers.

Forming Customer Relationships
LinkedIn is a professional network, but it's also a social network in that it allows you to connect with people and form professional relationships. Remember that advertising statistic from above? Using LinkedIn to talk to potential customers lets you cut through the noise of daily advertising and actually form relationships with your customers. 
We live in a world that offers a lot of surface connections. But, underneath that, many people feel very disconnected and are craving real conversation, even from the businesses they trust. Chatting with someone on LinkedIn about how you can help their business or even them, personally, will go a long way. It's the best way to build trust and allow your customer to feel more comfortable with you. As a result, they'll be more likely to keep using your services, and more likely to recommend you to others. 
The relationships that develop between you and customers on LinkedIn also give you the opportunity to "sell" to them. Because it's a professional network, more people are open to the idea of buying and selling or even talking about such things. You wouldn't just say hello to someone and then suggest they hire you. By forming a professional relationship, you can get a feel for what your potential customer wants and needs, and cater your conversations toward that before showing them how you can help. Our magic number is 5…why? Because we generally have the most success turning the conversation commercial after an average of 5 messages. People generally don't like the sales message straight away, they want to be made to feel special, feel that you understand them and their needs and expect value to be given BEFORE you turn the conversation into one of providing them with services. I always like to use the relationship analogy…
Generally (depending on where in the UK they are from) people want to be taken out for a few meals and get to know someone before you get them into bed. They'll probably want to get to know you before you move in together. They'll likely want to have been seeing you for a while before they get married. You don't just for the proposal the first time you meet them (or maybe you do?!).
Think of your initial messages as foreplay or courting before you give them the good news and turn the conversation into something YOU want (them as a client).
Is LinkedIn Necessary?
No.
That might seem like a shocking answer and completely contrary to everything else I've said, but it is true. LinkedIn is not necessary to market your accountancy practice. You managed before there was social media or maybe even the Internet, you would likely manage without LinkedIn now. But that doesn't mean that it can't catapult your business to the next level if you 'did LinkedIn well'.
Of course, quality of conversation and engagement is a massive factor, but marketing still relies on numbers. I'm hesitant to say it is a numbers game because it isn't a scattergun approach, it's a sniper rifle. However, your chances of finding a good fit for your business, that needs you and is at the right stage of the buyer journey dramatically increase if you speak to more people, put your message in front of more people and develop relationships with more people. LinkedIn is a great way to do that in a scalable, systematic and measurable way, on a channel that people are open to discussing business and are likely in the commercial mindset.
If it's general advice on LinkedIn you're after, then we're happy to add that value before we even think about selling the benefits of our LinkedIn Lead Generation services. I'll stop short of saying I'll take you on a few dates as I don't think it would go down well at home, but I'll certainly provide you with value, position myself as an authority and develop trust until the cows come home. Get in touch and we'll start your LinkedIn lead generation journey today with a review of your profile. Just email us at hello@invokemedia.co.uk
Jack Barron
Director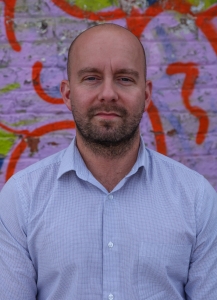 ABOUT THE AUTHOR
Starting his marketing journey at age 15 promoting music events, Jack went on to plan, market and execute his own events before joining the British Army and serving two front-line tours of Helmand Province. Upon returning to 'civvy street' he set up Rebel Marketing to provide marketing consultancy services to the events industry. At around the same time, he undertook an Events Management Degree at the University of Central Lancashire, attaining a 1st Class (Hons) Bachelor Degree, before moving to Manchester to work as the digital marketing manager for a city centre agency specialising in financial services marketing, eventually becoming their marketing director.
Whilst there he undertook an MSc in Marketing Communications at Manchester Metropolitan Unversity before reactivating and rebranding Rebel Marketing as Invoke Media in 2015. After moving Invoke Media to his hometown of Preston in 2018 to support the development and growth of the area, he has since started further studies and is due to complete another MSc in Psychology from the University of Central Lancashire.
Jack is passionate about marketing and helping small to medium-sized businesses thrive. His experience working in the fast-moving events industry from a young age, along with a strong drive and discipline fostered by his time on the front line, all contribute to the work ethic and values of the company.
http://wp.freedomofcreation.co.uk/invoke/wp-content/uploads/sites/96/2020/05/greg-bulla-auITmXWF3Qw-unsplash.jpg
4672
7000
Jack Barron
//wp.freedomofcreation.co.uk/invoke/wp-content/uploads/sites/96/2017/04/invokebw-300x300.png
Jack Barron
2020-05-20 17:58:30
2020-05-20 17:58:30
Is LinkedIn Necessary for Accountants?