Not on Instagram yet? Been a while since you updated your Facebook page? You're missing a trick! Social media marketing is one of the most cost-effective ways of reaching your audience, as well as building brand loyalty. If you're serious about providing your customers with the very best possible experience, as well as raising your visibility among your target audience, social media is a must. We've put together a few of the points that prove social media is an absolute essential for successful restaurant marketing.
1. Social Proof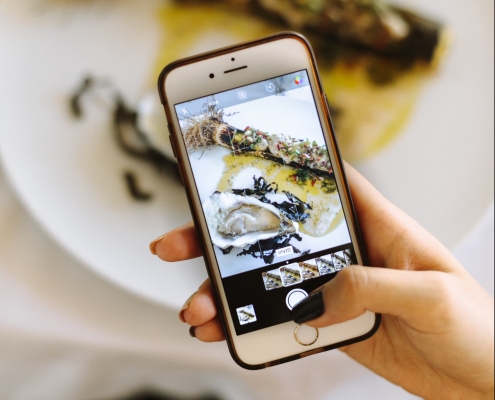 Customer feedback and reviews create social proof, building trust in your brand. In fact, reviews are one of the key drivers for decision making when it comes to product purchasing, especially in the hospitality industry. With some sources suggesting that potential customers give online reviews the same weight as a recommendation from a friend, it makes sense to encourage as much public feedback as possible. Encouraging customers to share pictures of your dishes on their social media (especially Instagram), is also a fantastic way to let more people know just what delights are in store when they choose you for their next meal out.
2. Be Part of What's Going On
From celebrating the seasons and national festivals with your audience to current world events or local news, social media gives you a unique opportunity to tailor what you offer to suit your audience's needs, mood and expectations. It also provides an excellent chance to raise awareness of what you've got on offer and how it might benefit customers. Social media gives you the chance to connect with your audience on a deeper level than business.
3. Interaction & Connection
Few things build brand loyalty as much as interaction, which is precisely what social media marketing for restaurants encourages. From reviews through to comments, competition entries, features to share and more, social media posts provide prime content for your audience to engage with and feel connected to your business.
4. Keep Your Audience Informed
Whether it's an emergency update to inform customers about an event that may impact on their visit (for example roadworks, refurbishment work, extreme weather or some other incident), a reminder to book early to avoid disappointment or an announcement regarding a time-limited offer, social media is a good way to quickly provide your customers with vital information.

5. Social Media is Cost-Effective
PPC, SEO and similar tactics all require a considerable amount of technical know-how, as well as a significant financial outlay. In contrast, social media is extremely easy to use (the majority of restaurant owners or proprietors will already have social media accounts – business accounts are no different) and also FREE. Although someone needs to put the work in by making regular posts, commenting appropriately and responding to customer feedback, social media for restaurants is an extremely cost-effective option.
Social media for restaurants is a proven way of attracting trade and increasing repeat business. Give it a go and see the benefits enhanced social media engagement can bring. Get in touch with us today on hello@invokemedia.co.uk
Jane Newby
Marketing Assistant
http://wp.freedomofcreation.co.uk/invoke/wp-content/uploads/sites/96/2020/04/austin-distel-tLZhFRLj6nY-unsplash.jpg
1940
2909
Jack Barron
//wp.freedomofcreation.co.uk/invoke/wp-content/uploads/sites/96/2017/04/invokebw-300x300.png
Jack Barron
2020-02-20 18:03:03
2020-04-13 18:57:00
5 Benefits of Social Media for Restaurants